Book Review- Dead Famous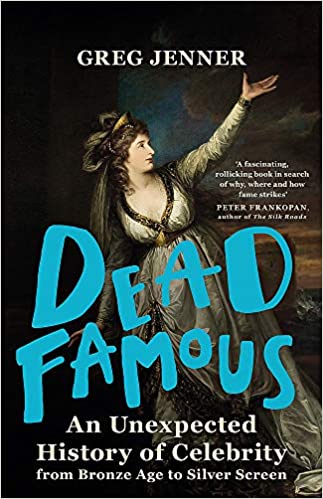 Oh I've been teasing this one for a while. Then I went on vacation. Then…then…listen release day podcast reviews have a deadline at the moment. Book reviews do not. I will be better.
That being said, my gods, I loved this book. I've already talked on my State of the Blog a few weeks ago why Dead Famous by Greg Jenner took me so long. I'm sad it did, but I'm so glad I was able to work my mental network to finish.
Greg Jenner takes us through the definition and history of the celebrity. We all think we know what celebrities are, but some people are famous and infamous without necessarily being a celebrity. We can see strings of this seemingly 20th century and beyond phenomenon all the way back to ancient Greece. Take a ride through hilarious stories that outline where celebrity came from, and where it might go.
This book is aimed for the general public, and reads like it. I enjoyed it because I have a background in theatre, and actors were the precursor to a lot of the celebrity we see today. Familiar names and feuds popped up constantly, with theatrical and theatrical adjacent beasts alike. Dickens, Wilde, and Siddons to name a few. Then we get into a little bit more "towards today" with people like Shirley Temple. This book ties together different niches of public entertainment and how we view them- and it is very interesting to sit on Jenner's thoughts after mindlessly scrolling on twitter.
Jenner is a public historian and his other work on podcasts is in the same vein. His writing is easy to read and funny. Especially if you've listened to him on a podcast, you can really sink into the conversation. That isn't to say this reads like a novel. Dead Famous is non fiction, so there is a bit of dry that happens from time to time. The chapters can be a little long, but I found it easy to follow along. Jenner wraps everything up with some British wit to keep the train moving. This is not an easy topic, because of the differences in definition of "celebrity" being conflated with other labels. Then, looking at how society has developed parasocial relationships, where they started, and where they are now, is a hefty ask. No wonder this book took him four years to write.
My favorite tidbit that I keep thinking about is the relationship between Fredrick Douglass and his photographers. To this day, photographing Black people is not a skill many artists have. We're taught to work and look at white people as the general median. Remember how Facebook didn't give the option to tag darker skinned people in photos a while back? Yeah. Douglass in his lifetime worked carefully with photographers to protect his image and by extension the image of the Black community. I keep thinking about this, and how it hasn't really changed. It is an absolutely striking piece of information to keep close in today's world.
We can learn a lot about ourselves looking at the past. Dead Famous is a good read to make you think, laugh, and learn a little bit more about our world. Also, be sure to check out his podcast You're Dead to Me, which is an absolute favorite of mine. Greg teams up with an expert and a comedian to chat about something or other from history. My favorite episode is about Grainne O'Malley- an absolute badass contemporary of Queen Elizabeth the first.