Review: Aftershock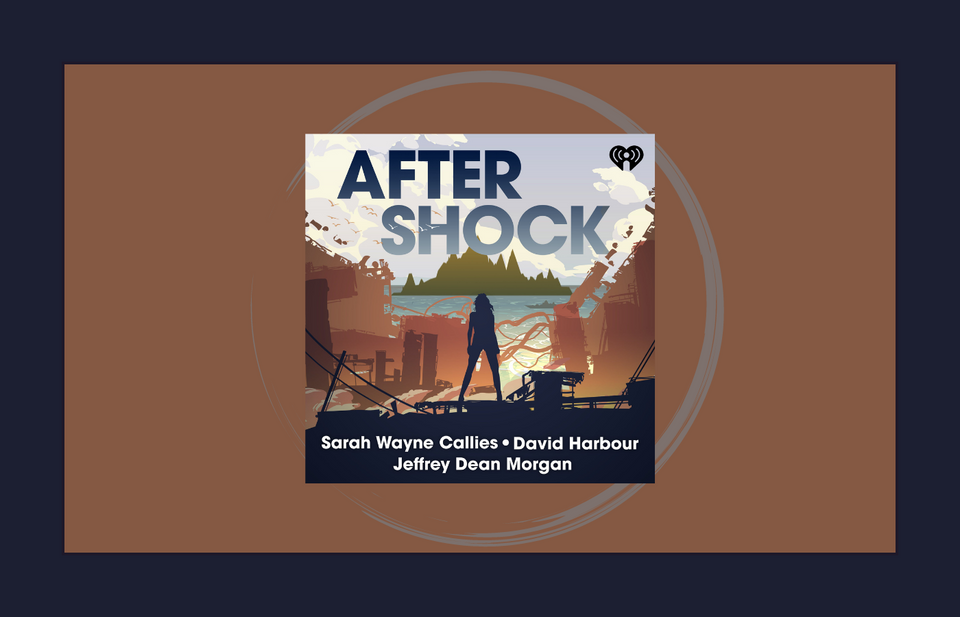 My disclaimer: I will fully admit I haven't been one to listen any audio dramas. I have tried a few, but I think I found them too late in their games. Tumanbay, for instance, was multiple seasons in when I stumbled across it. It was easy to burn out and I am not good at pacing myself. I like the idea of listening to fiction, and audiobooks haven't clicked with me. I've been at a loss, and maybe in a true crime rut. All of this to say: I was excited to try out Aftershock from iHeart.
When GreatPods shot this into my email, I was drawn to the concept. An audio thriller in particular makes me instantly curious. I  took a sound design class in college. My boyfriend is literally an audio engineer. The medium takes a special kind of talent in the first place. How are they going to manage thriller? It just feels like it would be harder to pull off. The description alone had me hooked and looking at the credits (below): I think this team is a knockout combination for the genre. Aftershock stars a number of hefty names, and this is a compelling start to what I am sure is to be a great season. 
Aftershock is set in flashbacks. We start in the interrogation room on a US Coast Guard ship. Captain Mark Dover is questioning Cassie, and then Wayne Sharp. They take us through Cassie's recounting of the first hours. The largest earthquake in North American history levels Los Angeles. The love of her life is killed, and his young daughter's whereabouts is unknown. All they knew was that McKayla was on her boat that day. The next morning, Cassie sees a news feed set up by the Red Cross. Everyone discovers that the earthquake created an island off the coast, while Cassie discovers McKayla's ship is at the top of the island. We then meet Wayne Sharp, who agrees to accompany "mama bear" to the island to find McKayla. During the interrogation though- we start to get the feeling that something is off about this rescue mission, the island, and everything we thought we were staring to know. Timeframes keep jumping, memories lapse, and we find out Wayne and Cassie are the only two who have made it off the island alive.
I am curling my toes in anticipation for the next episode. I will be even more enthralled if they keep the episodes short like this, around 30 minutes or so. It works so well here because it feels more like anticipation than exposition. This team straps us in and makes us think we are coasting along, when we're really racing to an abrupt end. This excellent writing, combined with superb acting and sound design had me leaning in and grasping at haunting imagery. The sound design being especially effective, created phantom pictures in my brain and made it tingle. It gives just enough to forward the plot without taking away from the performances. All in all, the combination of talent should bring us something thrilling.
Thanks again to GreatPods and iHeart for releasing the episode to some reviewers early.
Listen now wherever you get your podcasts. To see other critical reviews of Aftershock and a link to the show you can check out GreatPods too.
Credits for Aftershock
From iHeartMedia, "Aftershock" is co-produced with Nomadic Engine and Salmira Productions, and stars Sarah Wayne Callies (Prison Break, The Walking Dead, Colony), David Harbour (Black Widow, No Sudden Move, Stranger Things) and Jeffrey Dean Morgan (The Walking Dead, Watchmen, Supernatural). In addition to her leading role, Callies also directed the series as well as co-created "Aftershock" with her Nomadic Engine partners, author Patrick Carman (39 Clues, Skeleton Creek) and TV/Film Producer Ben Haber (The Smurfs Movies, Across The Universe), and wrote with Carman.
The series is Executive Produced by Ben Haber, Mark Ramsey, Sarah Wayne Callies & Patrick Carman along with Salman Al-Rashid, Sam Frohman & Simmons Frazier for Salmira Productions; David Harbour; Jeffrey Dean Morgan; Paul Anderson & Nick Panella for Workhouse Media; and Noel Brown for iHeartRadio. Sound Design, Scoring & Mix is by Ambie Nominated Jeff Schmidt (Dr. Death, Dirty John). "Aftershock" is distributed by the iHeartPodcast Network.
Full Cast: Sarah Wayne Callies (Prison Break, The Walking Dead, Colony), David Harbour (Black Widow, No Sudden Move, Stranger Things), Jeffrey Dean Morgan (The Walking Dead, Watchmen, Supernatural), Tati Gabrielle (Chilling Adventures of Sabrina, The 100), Janel Parrish (Pretty Little Liars, To All the Boys I've Loved Before), Russell Hornsby (The Hate U Give, Fences), Rockmond Dunbar (Prison Break, Sons of Anarchy), Tovah Feldshuh (Lady in the Water, Crazy Ex-Girlfriend), Bethany Joy Lenz (One Tree Hill, Dexter), Michael O'Neill (Dallas Buyers Club, Transformers, Seabiscuit), Austin Amelio (The Walking Dead), and EJ Bonilla (Gemini Man, The Long Road Home, The Old Man).