Review: Bridgewater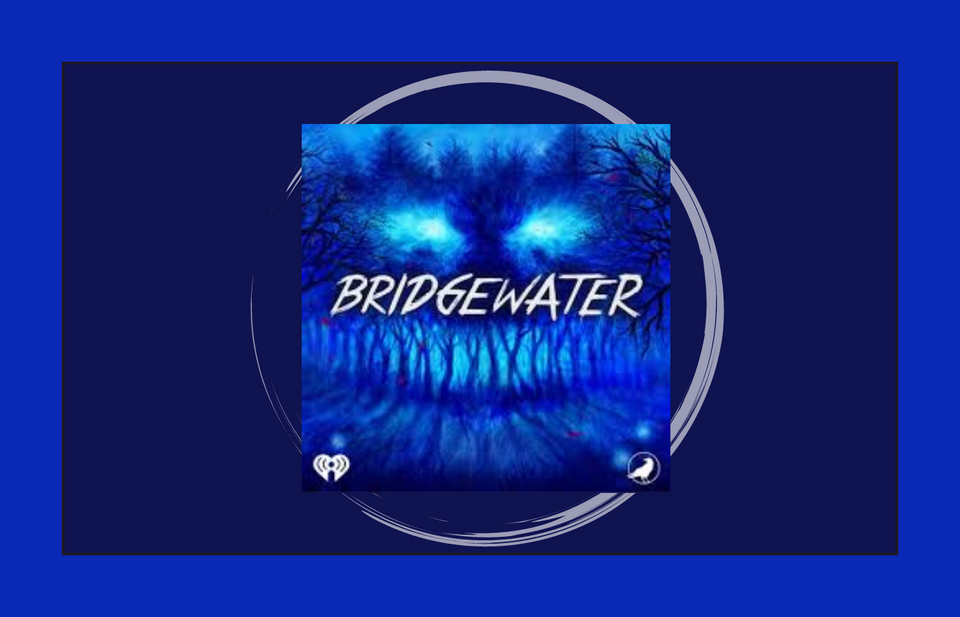 Spooky season approaches, thank the gods. With it comes a new fiction podcast from Grim and Mild and iHeart. Bridgewater. Packed with a star studded cast, in minutes this production gives us tease: providing a smooth accompaniment into the cool autumn waning days will bring.
After an enticing prologue we open with: History professor, Jeremy Bradshaw. He is holding one of the first lectures of the school year. The class is Folklore and Fact, a semester set to investigate the creepy happenings of the Bridgwater Triangle, a northeastern variation on the infamous "Bermuda" . During the lecture, one of his students brings up a reddit post. A user recently claimed that the local police had found a police badge- the very badge that belonged to Jeremy's father. Officer Bradshaw disappeared nearly forty years ago, and nothing was recovered. Jeremey digs into the past with Officer Bradshaw's former partner. Mystery upon mystery is rolling out, as the Professor is pulled into the secrets of Bridgewater.
I'm definitely building my personal opinions on how I like audio built in fiction podcasts. It comes with the territory of listening and reviewing. While I have enjoyed more than I thought I would, I know this production has done an outstanding job. In my opinion, the craft of audio storytelling has been upped with this entire production. While slipping into the same vibes as other Grim and Mild podcasts, the feeling and design is immaculate. Every creative on this team was on the same page for the vision, and you can tell the collaboration was spot on. Bridgewater uses 3-D audio to carefully pan between our left and right ears. We are absolutely plunged in the world with this style, and it pays off. For the record: You should be wearing headphones for this show -and you'll be reminded of it when you start to listen.
This team has given us a "sit back and close your eyes" podcast. I sat on the couch, drawn into the world. The subtle details in the audio had me turning my head left and right. I was thinking my cat was right there making a ruckus, when she was in the other room. The subtle world building coasts us through the smooth exposition, introducing a stellar panorama of characters. The cast stars Misha Collins as Jeremy Bradshaw, Melissa Ponzio as Anne Becker, and Karan Soni as Vipin Khurana. The skeptical professor, the eager assistant, and the battle hardened cop form a trifecta of foils on the backdrop of this creepy town. These actors skillfully build full characters within moments, you can feel their expression in moments of silence. The two episodes that drop with the premiere might feel like a slow churn beginning, but it quickly rolls into perpetual motion, giving us intense apprehension for daring to wanting more.
While the acting is superb, it fully supports the writing. I like that it forces us to pay attention, Lauren Shippen deftly keeps us on our toes. I was never sure if I was about to miss something important, or dive into the next tense moment. Overall, we have subtle beats that dance lightly between 3-D audio, excellent writing, and skilled delivery. It makes me think most obviously of Supernatural, but also Stranger Things. The pull of show is exciting, dragging you into a complete picture and not letting go until the eerie warm narration of Mahnke pulls you back to reality.
Bridgewater will go best with dark autumn nights, being wrapped up in a blanket, a blazing fire…and that something beyond the safety of embers to keep you warm. I look forward to listening to more.
Thank you to GreatPods for setting up the early listen, check out more critical reviews at GreatPods here. 
Bridgewater is a production of Grim and Mild and iHeart Radio, the world was created by Aaron Mahnke, Bridgewater is written and directed by Lauren Shippen.
Starring: Misha Collins (Supernatural) Melissa Ponzio (Teen Wolf), Nathan Fillion (Firefly, The Rookie) Karan Soni (Deadpool) Kristin Bauer (True Blood) Hilarie Burton Morgan (The Walking Dead, One Tree Hill), Wil Wheaton (StarTrek: The Next Generation), Jonathan Joss (The Magnificent Seven, Parks and Rec), Lori Alan (Spongebob Squarepants, Family Guy)