Episode Highlight: You're Dead To Me, Grainne O'Malley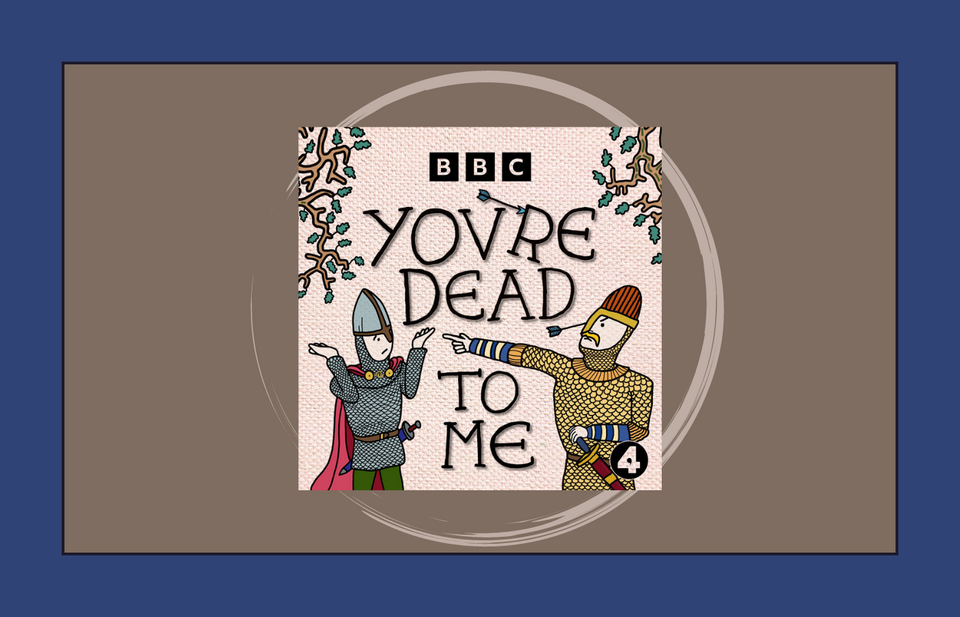 Welcome to day two of Seven Reviews in Seven Days: Ireland edition. All podcasts are related to Ireland in history or culture or content. This one is really a fun one for me because it's one of my favorite episodes of a podcast ever. People generally ask if podcast listeners re-listen to episodes. This is the only one I re-listen to.
But first, a bit of a story.
Sometime in high school, we were assigned to read and review a biography. At the time, I was on a big "reconnect with my heritage" kick. Irish everything. Books, music, learning how to draw Celtic knots. It was mostly a superficial connection, but it gave me something to hold on to considering I am estranged from my Irish family.
Of course, the biography that I find is that of Grace O'Malley. The story was enthralling, and I was pretty content with it overall as a project. Imagine my surprise some years later when I pop into the feed of one of my favorite podcasts, You're Dead to Me.  An episode on Grainne (Gran- yah for those who think her name is Grain) O'Malley. While it was the Irish version of her name, I was pretty sure I knew exactly who this episode was about. I was right. Ireland's Pirate Queen.
Hosted by Greg Jenner, You're Dead to Me is one of my absolute favorite podcasts. Every episode our public historian is joined by an expert on the subject topic, and a comedian who may or may not know anything about the subject. If I'm recalling correctly, this episode of YDTM is one of the best received in the history of the podcast. Although, that may have now been usurped by the episode with Stephen Fry…
That being said, the episode on Ireland's pirate queen features Dr Gillian Kenny and the spectacular comedic timing of Catherine Bohart. Together with Mr Jenner, these three traverse back in time to 16th century Ireland. Grainne was one of the last of her time, as married Irish women held more agency than one might expect at this time. The Pirate Queen commanded ships, kidnapped heirs, and was essentially an O'Malley chief in her own right. Her history isn't much spoken aside from bedtime stories and castle legend, but it is there and she was a real woman. Grainne even met with Queen Elizabeth I at one point to negotiate the release of her son as Irish English tensions ebbed and flowed through her life.
My favorite thing about this episode, other than the general topic, is the overall flow between hosts. Catherine Bohart does an excellent job of making it fun and funny, while still staying staunchly on topic. The overall chemistry between Dr Gillian Kenny, Greg Jenner, and our comedian makes this episode not just extremely informative- but extremely enjoyable. You're listening to three people who do and don't know much about this history - and they're all happy to be there. Never is it unapproachable or incomprehensible, which to me marks an excellent informative podcast. This really is an exemplary episode of the podcast overall when it comes to great episodes of You're Dead to Me.
If you're wondering or worried about quality here: don't. This is a podcast produced by the BBC and takes so much time between seasons because there is a level of excellence here other podcasts aren't able to have. Lengthwise episodes of You're Dead to Me sit around an hour long- with the podcast releasing shorter radio edits in between seasons.  This one doesn't have anything particularly explicit in it, none of these episodes do. However, there are rather blunt conversations around our Pirate Queen's sexual exploits. If you're looking for a slightly more family-friendly version, find your way to the radio edits rather than the regular podcast feed.
Ireland's Pirate Queen, Grainne O'Malley is one of my favorite bits of history. Largely unknown but loved when known, if you're interested in diving into Irish history for just a moment take a listen to this episode.
Once again, thank you for listening to my thoughts on podcasts. It's really exciting to see how Magpie grows. While I'm trying to strike a healthy balance between Twitter and Instagram and my own life, I'm still there. So go say hi and see what I'm up to.
Otherwise, subscribe and get monthly updates as to what's going on. I promise not to spam.