Review: Preconceived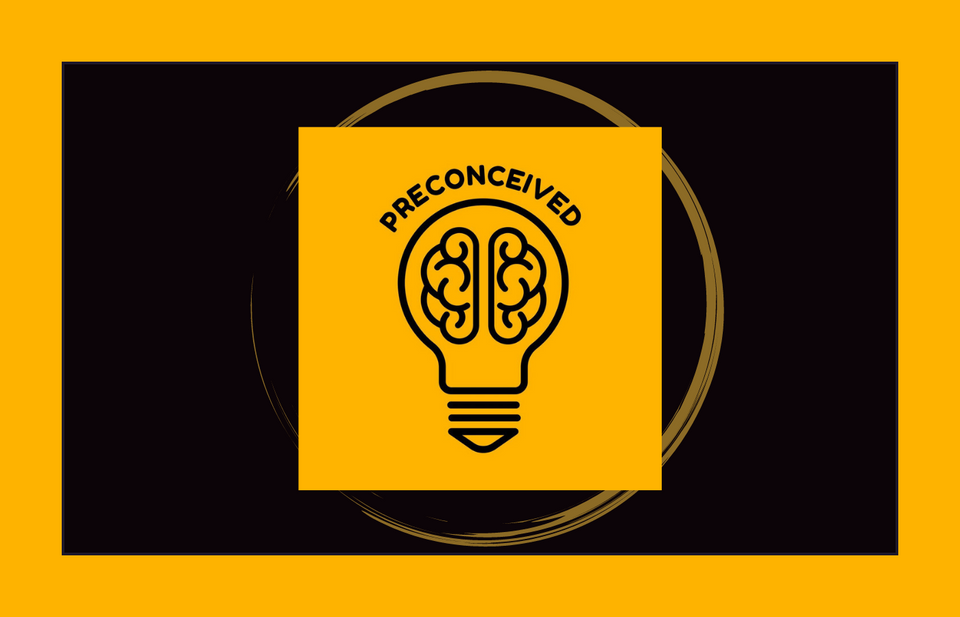 In Keelin's Personal Life, we've had a significant schedule shift from office hours to evenings and weekends. What can I say? My life is, if anything, inconsistent. So I push forward, listen to a bunch of podcasts, and then find myself spinning because now I have about five or six podcasts I could review…and I find it hard to choose.
Twitter told me they wanted "Curious Things" which, I have to admit was probably misleading. I find Preconceived to be a curiosity podcast, but not in a bones-in-the-closet way. This podcast is like walking down the nonfiction section of the library, without a singular goal in mind. Just a general want of something new or something interesting- without the commitment of a degree. Curious things in a very literal sense.*
Which is why I enjoy this podcast. It is low-key with just our host Zale Mednick and a guest, with most episodes playing out at around 45 minutes. For the most part, Preconceived doesn't ask too much of its listeners despite the tagline being slightly intimidating.
"Preconceived examines the preconceptions that shape how we view the world and challenges the paradigms by which we live our lives."  - Preconcieved
When talking about podcasts, I try to organize them into some sort of taxonomy that is more specific than what Apple Podcasts has denoted. Preconceived is a difficult one for me to fit mostly because it feels like a podcast that you can come and go with. I find myself letting a little backlog fill up so I can listen to a few episodes back to back.
I would call this a  "chat with an expert" style podcast. With each episode, we get a well-directed conversation that isn't formulaic. It would be easy for Preconceived to introduce ideas with just the host, and then introduce the guest, and then the final conclusion for a very A, B, C approach. It doesn't. The exploration comes out of a conversation, which is more engaging and effective. When listening, you're not being told what you already think about a topic, you're being told what common ideas are. That's a pretty huge distinction in my eyes.
It's also spectacularly easy to consume. I find it almost cozy. I love taking Preconceived for a spin as a mental warm-up. Sure, there might be some episodes that are more intense than others, but I never feel excluded from the conversation because I am not already familiar with a topic. I can listen to this podcast just about anywhere, put it down, pick it up, and keep going without much hassle. Most of the time I walk away going "huh", feeling like I'm in a better place to go deeper on a topic.
Podcasts like Preconceived are why I started reviewing podcasts- and why I focus more on non-fiction podcasts. So many exist just like this one- there to gently teach you and challenge you, without it being a huge hassle.  Especially here, with episodes being on the shorter side of 45 minutes. It's so approachable. I constantly find myself going "that's it?" and scrolling through to find another bit of curiosity to sink my ears into. Not to say that episodes are too short, there are enough episodes to fill a few days with interesting ideas- but the conversations flow exquisitely through time.
This is a podcast that could help fill spaces between bigger, heavier podcast listens. If you're taking something like Serial for a spin, or even Hardcore History you can rotate in  Preconceived and make it your breath of air before diving back in.
Podlink for Preconcienved Here
Thank you to Arielle Nissenblatt for dropping this podcast to me. As usual, if you want to know what reviews I'm doing on a monthly basis, subscribe to Mentally? A Magpie for free. If you want more of my day-to-day shenanigans follow me on Twitter (Link Here) and Instagram (Link Here)
Also, Go Bills.
*I will make this up to you, with my next review.