Review: Solar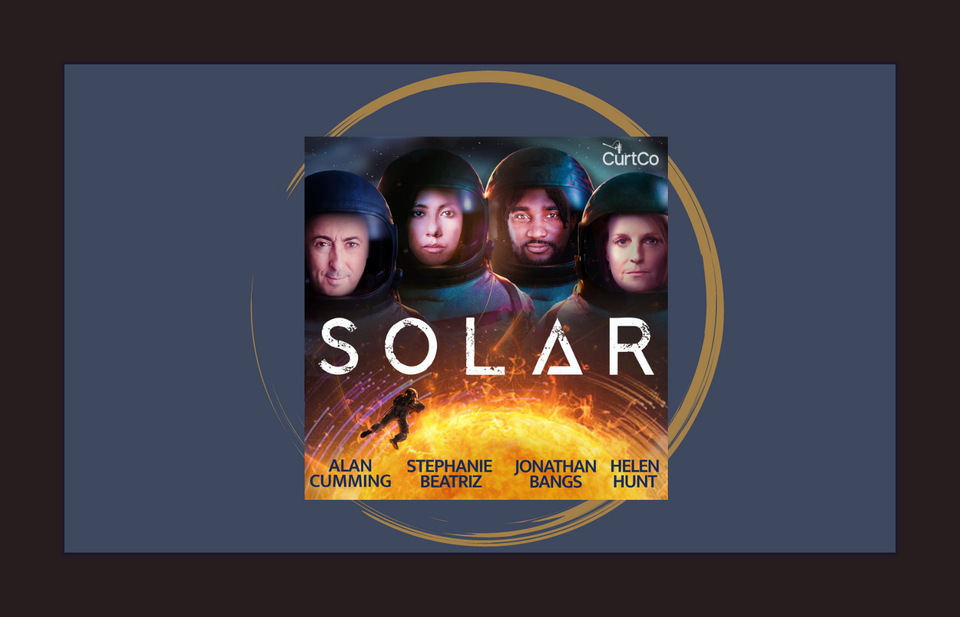 The Other and I met at a theatre in Florida. When working there we  got one day off a week with a nearly unbelieviable grind. We lived within two hours of a lot of awesome "Florida" things- we just couldn't always justify the lost day of rest. Towards the end of the contract, things were calmer and a day off could be more than just recuperating. It could mean an adventure.
So I planned. Bought tickets, and told him he was in charge of food or anything else we wanted to buy. I memorized the directions from his apartment, and the next morning off we went. It took him slightly longer than I expected for him to realize we weren't going to Disney. We were going to Kennedy Space Center. It was a magical day.
I love space. I enjoy science fiction because it's based on our reality. I love the thrill of possibility and the human-engineered hope of figuring things out. This is a central point of the podcast Solar, produced by Curt Co Media.
In an audio drama set in the not too distant future, a group of scientists are orbiting the sun on a mission for NASC- the North American Space Coalition. A solar flare hits. It was an event so large it disrupted Earth's power and communication - and tore the space station apart. Separated by the destruction, crew members of the Aethon work to ensure survival. In a race against time, they have to figure something out before the station's new orbit sends them around the sun - completely cutting them off from Earth communication.

With an awarded cast, this podcast promised from the beginning to be a heavy hitter in the audio drama world. Starring Alan Cumming, Stephanie Beatriz, Jonathan Bangs and Helen Hunt- it does not disappoint when it comes to acting. It is a testament to these actors' ability to transcend mediums. Audio drama is hard because it's not quite voice acting, it's not an audiobook, and it's far from stage or screen. These actors have proven their versatility in the few episodes already out. The supporting cast is also holding its own next to the powerhouses, which is something that can be hard to do.
The production quality is pretty astounding. Using headphones is recommended for this one, as SOLAR deftly uses the power of audio to make you feel like you're on the Aethon in the middle of the action. It is not an overwhelming spatial audio feel, which I enjoy. There are moments of high stress that could have been absolutely grating with a too intense design. I appreciate how it feels like the production is guiding you through the settings rather than sitting you in the middle of it and letting you sink or swim.
It is a cerebral script, but it's not completely out of reach or touch. I certainly feel as though it's for people who already know sci-fi, rather than those just dipping their toes in. It is easier to know what to expect almost, as the podcast takes us through shifting timelines and mini-episodes of updates we may not need but are certainly curious about.
There are some beautifully delivered, yet emotional monologues right from the first episode. At times it feels a little heavy-handed for our world. Especially with the Better Help ads in the middle of it. I am all for COVID adjacent media during these times, but I do not want to be hit over the head with it. We need to be reminded that not only have people gone through marginally similar periods of isolation (families separated by war being one of them), but subtlety is key. I normally don't skip ads because I don't mind tuning out for a moment- but these ones I did. We certainly know how hard isolation is by now- please let me return to the mysterious space ghosts our character is seeing and not think too hard about the last few years.
Overall, I really have been enjoying this little break from reality. The episodes are a nice 35ish minutes long, and really do a good job of taking you out of it. I've been enjoying audio drama more and more in the last few months, and SOLAR is going to certainly be a part of the mix for the next few weeks. Thank you to Greatpods for getting me to finally listen.
Thanks to you, reader, for taking the time to read my thoughts on SOLAR.
As a reminder, you can subscribe to the Monthly Magpie and get the round-up of what's been going on here at the top of each month. I'm on Twitter and Instagram, too! So come by and say hi. Send pictures of your pets, I love them.