Review: The Blindboy Podcast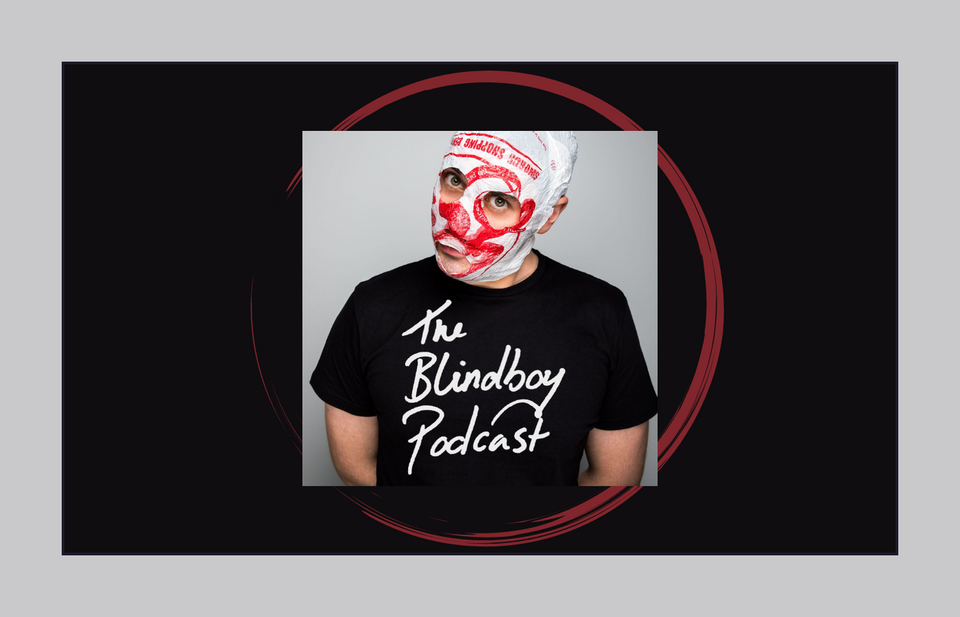 I was in Ireland for a wedding. Our friend was getting married to a wonderful man who happens to be Irish. The Other and I don't know the groom particularly well, but he's an extremely affable fellow and conversation flowed easily. After a number of pints, we got to chatting about podcasts and my blog. I told him I wanted to do a series on Irish podcasts. I was having a little bit of an issue of finding them. Ireland has a rich art history, where are the Irish podcasts?
And there, in a little pub in North West Ireland did I get one of the most interesting podcast recommendations I have ever gotten- in the form of a question. "Have you listened to Blindboy Podcast?"
My phone was dead so The Other had to text me the name.
Honestly, when I looked up The Blindboy Podcast, the cover art made me nervous. I was definitely sitting here like "Oh no. Is this a Bro Podcast? I can't handle this right now I have to get ready for a wedding."
I think my readers can understand that I am not one to listen to Bro Podcasts. I had to try, though. My friend suggested it to me and I wanted to do a series that didn't just look at Ireland in an academic sense. I wanted something that was contemporary, Irish, and yet…not for the person looking for something Irish.
Turns out, The Blindboy Podcast hit that nail on the head. This is a particular podcast though. I can certainly say not everyone is going to like it, and I'm going to remind everyone that it's perfectly okay to not like something.
This is a stare at the ceiling podcast, a listen during your commute to zone out a little podcast, and in general, one that really fits in with what I want to be Magpie themes. It's not about being confident in your curiosity and doing what you want with your own space- but it takes those ideas in stride. Described as an "eclectic podcast",  The Blindboy Podcast features interviews, monologues, and more in seemingly no particular order. Episodes are on the longer side, looking through the thread I saw very few episodes under an hour long.
The interviews flow well, with a warmth and joy for life that our host brings. Our host's voice almost seems smaller, but in a way that makes the conversation bigger. The monologue episodes make you question your sobriety, while also filling you with a sense of contended "huh, cool". It is an un-intimidating podcast in production value. It's solid quality, with occasional trips and flubs over words not edited out but they fit in with how the podcast flows. This is an independently produced and Patreon-funded podcast- and Blindboy takes great pride in this. As they should. Independent voices are necessary for the podcast ecosystem.
I should warn those who drive for their commute: there is a flow to this podcast that might be too relaxing. The stream of consciousness type monologues took me down a road of zoning out. If I wasn't relaxed and very happily surprised by this podcast, I would have possibly been frustrated with it. For example, a recent episode weaved in and out of quantum entanglement using balloons, saint bones, and a well-structured lull. There's a ride to go along with here, and I suggest you relax and go along with it for the sake of it.
The Blindboy Podcast is a work of art, created from a place of curiosity and joy that I don't see often reflected in the world. I am honestly a little mad that this isn't my own podcast- but I do know that then it wouldn't be The Blindboy Podcast. The genuine singularity of this podcast in voice and tone is wonderful, and the fact that it is so eclectic makes it all the better. I really suggest my readers at least take it for a little spin once or twice before making a decision on it. Not every episode might be for you, but some of them might and that makes it all the more worth it.
Once again, I'm on Instagram and Twitter if you ever want to find me there. Thank you to my friend Jack for the suggestion. Subscribe if you want monthly updates as to whatever I've decided I'm doing here.
Stay curious, everyone. It's worth it.