Review: Unladylike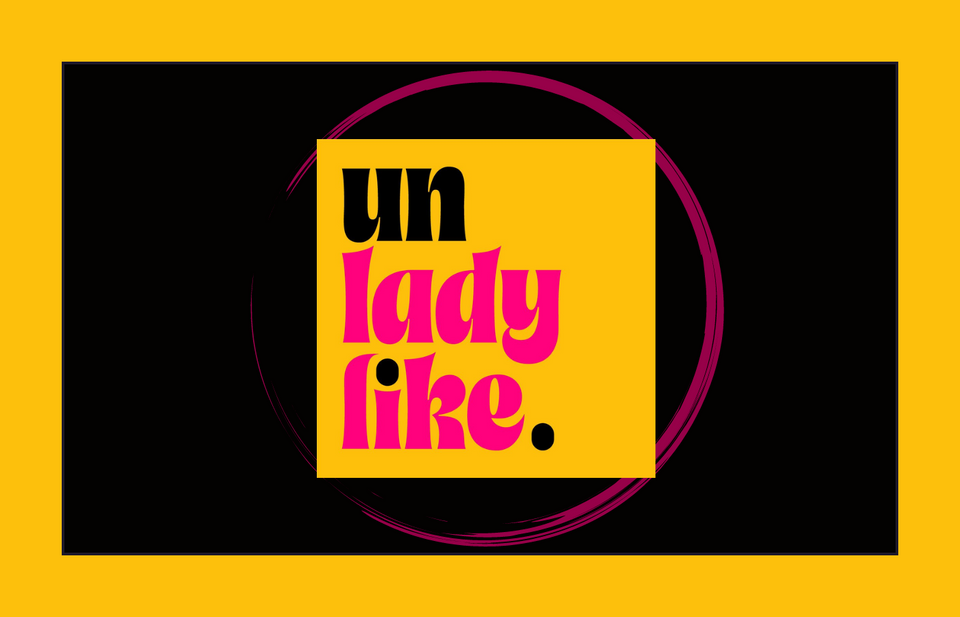 I never really know what I'm going to end up listening to on a day-to-day basis. Yes, I have goals, I have lists that would make people's skin crawl -unless you're like me and are obsessed with podcasting.
I'll try most things once, and I really love seeing what people can do with a microphone and a dream.
I have a number of podcasts that request reviews, and one that came through my submission page (a minute ago) was Unladylike. A catchy title, some cool art, okay what Illuminati Influencer Queens? I'm here for that.
Then I heard the theme song.
I will admit, it's not my favorite. It's brash, in your face, and repetitive. Frankly, it's almost annoying. We're introduced to our host's voice with a very sassy, almost whiney "I've had enough" carefully placed in a musical pause. I didn't shut off the podcast because of this.
I'm so glad I chose not to. It's now a go-to podcast. There is a point to the theme song.
Cristen Conger does something with this one. A light valley girl accent twinges her voice and yet she quickly destroys the stereotype that is being played with. I have never felt so connected to a podcast that sounds so anti-me on paper. I was afraid this was one of those podcasts. You know those podcasts. The ones that feel like they're being made for women of a certain age and demographic, with some low-rung celebrating trying to make it in podcasting because their voice is fading off of their reality star fame.
At first, this felt like that. I wondered what this publicist was doing submitting this podcast to a blog that covers the podcasts I like to listen to. Well, they were right. They knew what they were doing. A round of applause for you.
The truth is, this one very much is me. Searching for how to spell Cristen's name right: I found a tagline "Stay curious. Build empathy. Raise hell." I should've looked at that first, and then I would have known I could get through the theme song to the content that makes my heart sing.
I love well-done, seemingly random subject podcasts. These are the ones that fill in between audio dramas and heartwrenching stories of documentary style.
Conger does a great job structuring episodes well, taking the interviews and splicing them into these easy-to-follow, almost "over coffee" conversations about just about anything a woman may have questions about. Episodes range from exploring the history of conspiracy, and the relationship between women and true crime, to intimate questions of women's reproduction and beauty standards. An absolute gold mine for the curious who just want to scroll and be comforted by a deeply curious friendly voice. Cristen's voice is a friend for the shamefully curious, to sit and learn
Episodes of Unladylike have a range depending on what kind we're looking at. Pep talks are around twenty minutes, Ask Unladylike is give or take, and regular episodes seem to be between 30 and 50 minutes- and getting longer. There has been a recent renaissance of the Unladylike, and I really like this.

I am certainly finding this to be a "look at the new episode and scroll if I'm not interested". This means when I'm looking for a laundry companion, a lot of the time it's Unladylike. This podcast is constantly filling me in on something I didn't even realize I had a question about.
This is a feminist podcast that will be your best nonjudgemental friend when you just need to think something through. We shouldn't be ashamed of the questions we have about the world that we, too are a part of. Sometimes they're going to be things we didn't learn how to talk about growing up. Unladylike is there to be curious, and to help ease us into these topics.  
It just goes to show, take a chance on a podcast. You never know what friend you might find in the ocean of audio.
Podlink for Unladylike: https://pod.link/1333193523
With the impending demise of Twitter I am rebuilding my Linktree, but you can find me in various places off of my Linktree.