Review: Vanishing Postcards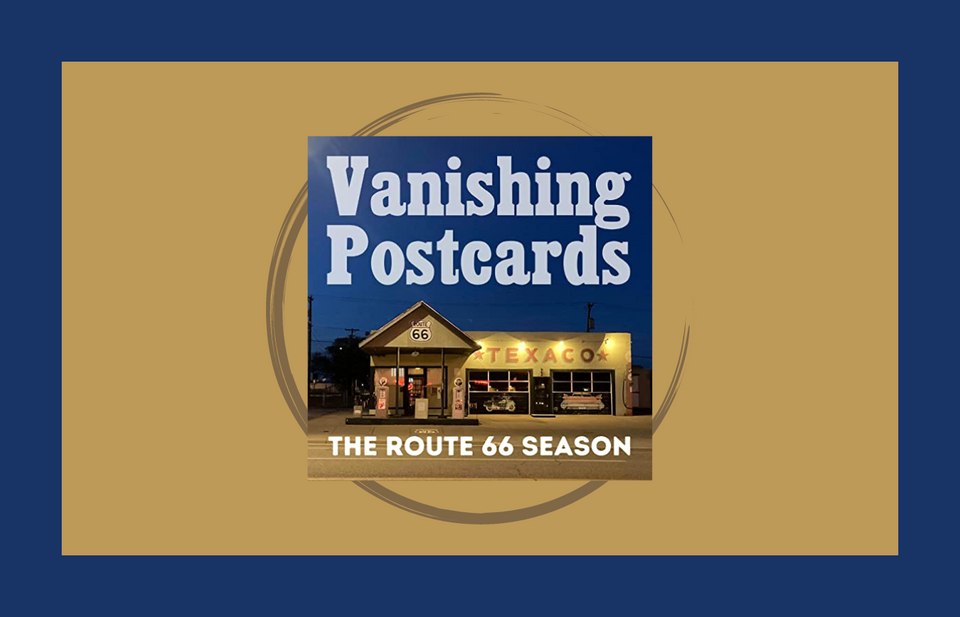 "There's an ongoing river of something about some places" Episode One of Vanishing Postcards.
I am an American. For the most part, it's a neutral thing to be from a place. Sure we all have prejudices, but to be from a place is neither good nor bad. It just is. The odd thing is, sometimes I feel more like I'm from the "Rust Belt" than I'm from the United States. Sure, I know other places are large, and smaller places have just as diverse and dense senses of culture- but most of those other places are more established. Perhaps, more deeply confident in who they are.
The size and diversity of regions in the United States make it hard to connect to each other as citizens under one flag. It seems poignant to discuss this right now, as we are constantly remembering how hard it is to reconcile the broad strokes this country can be painted with. I've been thinking about the "how's" to the deep divides that have been dropped in our laps.
Is the solution a high-speed rail system, connecting the coasts with the flyover states?  Is the answer a sweeping education reform to help us understand each other? What can be done to make all Americans feel more connected and American.
The reality is that there is no one solution to a problem this large. It may be a big ask but I think one tiny part of this solution could very well be podcasts. Podcasts like Vanishing Postcards.
You see, part of having these pockets of culture isn't just knowing they exist. It's connecting them. It's preserving the parts of them that are worth keeping. Vanishing Postcards takes us through a variety of places in Texas that are particularly unique, and important to the people in places that may be quickly forgotten. Small towns must not be forgotten because they are small. People must not be forgotten because they are from small towns. We must not omit from memory any of these places. Season one of Vanishing Postcards focuses on Texas. Also, full disclosure, I only got through about five episodes of season one before writing this- but I'm absolutely hooked.
Episodes of Vanishing Postcards run somewhere between 30 and 45 minutes across twenty episodes.  These snippets of life and history coast through your ears and into your heart. Evan Stern nails this travelogue and creates a soundscape of Texas that feels wholly alien while being wholly familiar. The base humanity echoes through the twang and the familiar, yet unfamiliar traditions. Being from Buffalo, for example, Polish-ness is familiar. I did not think of a tiny town in Texas as another place where the descendants of Eastern European immigrants kept their language and culture alive little by little.
As a whole, this is one of those podcasts that absolutely shines in writing, delivery, and production. This is effortless to listen to, with the poetic tilt to the narration we are given a beautiful and illuminating picture. Vanishing Postcards deftly peels back the outer layers of accent, sawdust, and Shiner to the people who are, at the end of the day, people. These small places are ripe with histories, stories, and things to hold onto.
I love how we see bars, dance halls, whole neighborhoods, and more. We hear from descendants of Czech immigrants, Black neighborhoods, and long-rooted Appalachian transplants- all in a few episodes. We see this with our ears, and we know it with our hearts because this is the grounding of The United States of America. Episode two recounts how a century-old building in Europe is nothing, but in this country, it's a big deal. History has to be preserved to become old. I take comfort in the fact that even if any of these establishments go under, Evan Stern has preserved a dose of their spirits for the future to taste.
What's even more exciting is that the second season, The Route 66 Season is released today! I'm thrilled to be able to dive into a cross country adventure, and know a little bit more of the gems across this country.
If you liked my review, please subscribe and you'll get The Monthly Magpie, where I wrap up each month in my corner of podcast world. If you want you can also follow me on Twitter and Instagram.