Review: Wizard Seeking Wizard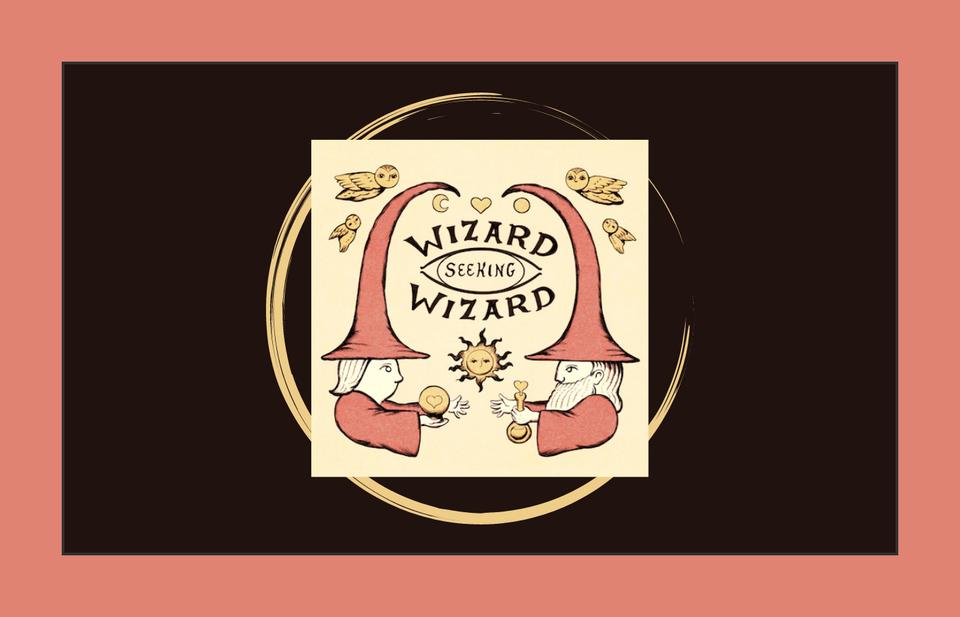 Oh the pandemic, the ever-present, ever-fading, ever-stressful reality. In 2020, I had already been listening to podcasts for a while. That was when I started reviewing one or two, but alas. The pandemic is what caused me to stop reviewing podcasts after a few early attempts. Funnily enough, the global lockdown seemed to cause a surge of podcasts and podcasting content. We were all stuck at home, so people bought a Blue Yeti, and decided to just go for it.
Some people were already in podcast land, so the pandemic was less of a start time, and more of a play time. This is where Wizard Seeking Wizard comes into our world.
One of the sound designers on this show suggested it when I was looking for "silly" podcasts. So there is that disclosure. Honestly, my podcasting buddy Tal Minear, never fails me when I'm looking for audio drama recommendations so I think you should go check out their newsletter Podplane.
As I look to explore audio drama, this was the perfect show for me to jump into. I do admit that I enjoy a good thriller podcast, but I would sometimes like to shake the industry and say  "there's more to audio drama than horror!". I needed something silly, light, and overall, fun.
Which is exactly what Wizard Seeking Wizard ended up being. Across 10 episodes, each between 45 minutes and an hour long, we are presented with a wizard dating show. Chemistro the Match Made was trapped in a crystal prison between realms by his former apprentice and now rival, Smoochulan the Smug. To keep himself sane, Chemistro decided to start a podcast with his familiar, Cupid. In each episode, we hear a few different match ads, sent in via magical methods. Being trapped in a crystal prison in between realms Chemistro can't really do live ads like a regular matchmaking show, now can he?
Ads are sent in and performed by various voice actors, and then the listeners voted on who from each ad should go out on a date. Dates include our typical romantic, rivalry, and even apprenticeship dates. The variety of relationships being matched in Wizard Seeking Wizard is quite refreshing, and fun to listen to. It's also, delightfully, finished! There are a few bonus episodes that are a crossover with Dungeons and Drimbus, but the overall arc ended in 2021.
This is an audio drama podcast for fans of fantasy, comedy, and general silliness. The wizard world here is general enough that you're not sitting there wondering what fantasy mechanics you're trying to work with. It's a podcast to just listen to and enjoy. Sure, there are some "greater lessons" here, but this is more of a delight than a challenge. It's different, and the joy of podcasting is part of what drives it forward.
This is a piece that you can tell the people had fun making, which makes it so much better. There is so much love in these silly performances that are perfectly over the top for what this is. There is joy and if I had been listening to this during the height of lockdown, my life would've been better for it. My life is better listening to Wizard Seeking Wizard now, because of this joy. It's silly creativity at full throttle, it's enjoying life, and it's a break from everything that's difficult in life for just a little bit.
I should admit, some of the production aspects aren't as refined in a recording sense, however I find it only adds to the entire concept. Not everyone calling into a matchmaking service has a quality recording set up, even if they are magical. The way these actors and creators worked with what I presume they had, makes the entire podcast better. Sometimes you just have to figure out an explanation for the wild plosives coming through - and turns out a paper gramophone might be the way to do it.
This is a podcast if you need a break if you need to relax, and if you just want to try something different that isn't a huge commitment. Listen to Wizard Seeking Wizard Here
Just a reminder that the best way to support me, as a reviewer, is just to sign up and subscribe! On the first Friday of every month, you'll get The Monthly Magpie where you get my reviews and other updates without scouring socials.