Release Day Review: Legacy of Speed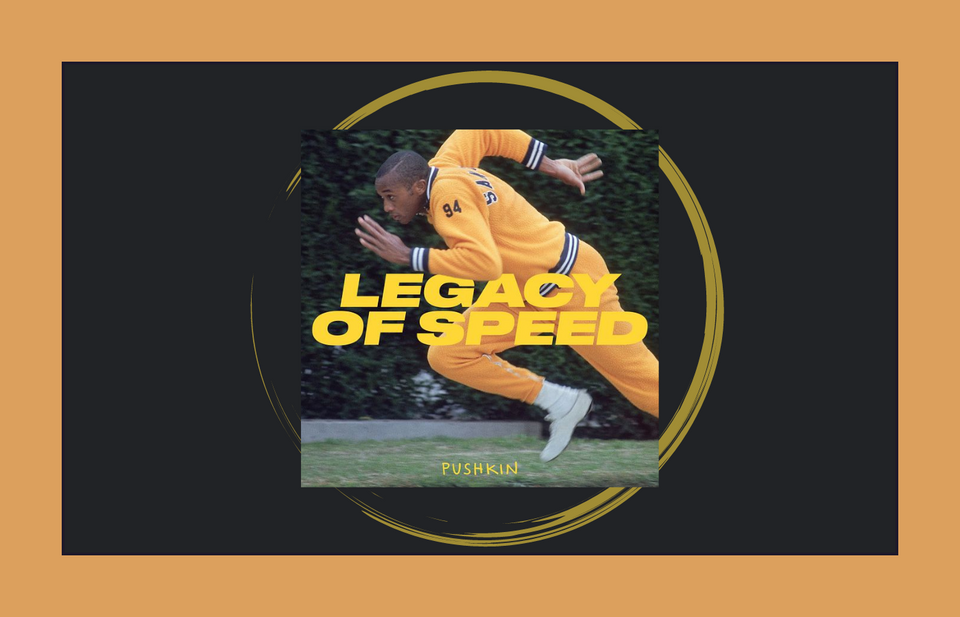 My mother calls my brother and me "two only children". We are, in many ways, opposites. With a relatively large age gap- we weren't really around each other if it wasn't home or family-related. Of course, I looked up to my brother and did things because he did. Mostly, though, we had an odd disconnect. Where we do overlap is a love of reading. We do not read the same things, but growing up books all books in the household found themselves on my shelves. This is how I came to hold and read The Soul of a Butterfly by Muhammad Ali.
Honestly, I did not know much about the man- other than being a boxer that converted to Islam. I knew he was one of the greats, and generally was well respected and loved by the sporting community. Yet what I learned in that book was so much more. It was the human behind a name and a face. The story has stayed with me throughout the decade since I read it? That his Olympic gold medal was tossed in the Mississippi. The man was an "American hero" due to his success 1960 Olympics, yet he would not be served in a "white establishment" when he returned home.
The intentional and unintentional displays of solidarity and activism on the field started long before Kaepernick kneeled. Jackie Robinson, of course, but an image of gloved fists raised, heads down while on the top of the podium. This image from the 1968 Olympics we all know, but don't necessarily know the story of.
From Pushkin, Tracksmith and PUMA comes Legacy of Speed. The story of Tommie Smith, Lee Evans, and John Carlos- those track and field stars. Hosted by Malcolm Gladwell this six-part series peels back the layers of sport and activism for that historic moment. It gives us the humans behind the pictures, the humans behind the moments we are now so removed from.
The first episode sits at around thirty minutes and I hope the rest of them follow suit. I thought it was slightly overproduced when I first started listening. The introduction features these 60s-inspired instrumentals that were distracting - but it artfully fades out through the stories and the interviews. This music eventually becomes the narration for those times between, taking the place of the visuals. With some stunningly written narration, everything eventually falls into place for a wonderfully engaging listen. Legacy of Speed is easy to follow, despite some scientific topics sneaking in here and there. Malcolm Gladwell guides us through conversations with scientific experts, Tommie Smith, and others who lived the story.
We start at the beginning. Not with the runners who raised their fists and bowed their heads- but with their coach. Bud Winter has passed on, but his runners and his daughter provide profound insight into the white man who asked some young Black runners "Did you know you could be the world's fastest human?". This is where it all starts when San Jose State was a name no one knew- and history had yet to be made.
The connection between sport, art, and activism is a long one. Artists tend to get a kinder tone. While many people tell actors to "stick to acting", it has seemed to me that athletes are more aggressively told to perform, rather than to speak. The backlash has always been harsher if they're not white.
This is why I think giving voice to this story is important. It should be talked about and remembered. I'm not a die-hard sports fan so of course, I don't know the details of the Smith, Evans, and Carlos running in these Olympics. Some people will know because they're more into sports history and some people will know more because they or their parents lived it. I'm removed, so it's important for me to listen and learn. Legacy of Speed is on track to teaching me this history in an engaging and thoughtful way.
Find your favorite player and listen to Legacy of Speed. Here's a link you get you started: Legacy of Speed.
Thank you to Greatpods for setting up a sneak peek to this podcast. If you like this show, you also might like Season Two of Blind Landing. You can read my review here. You can also, if you want, follow me on Twitter and Instagram for day-to-day updates. Subscribe and you'll get The Monthly Magpie- a monthly wrap-up to your inbox once every month.