Review: Pale Blue Pod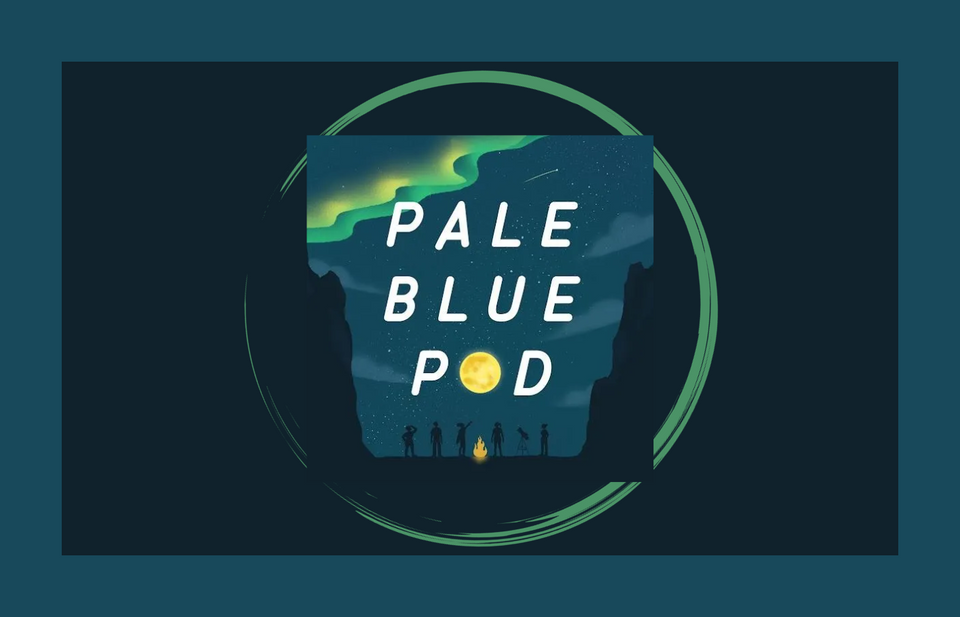 I could start this review with one of those moments of connection, reflecting back into me and my life. The reality is, that this podcast is so connected to my life and interests that I haven't reviewed it.
Don't ask me why. I honestly looked at my lists and went "Wait, I haven't reviewed that one?" Pale Blue Pod is an astronomy podcast, specially designed for those who are cut by both edges of the space sword: those who experience equal parts curiosity and existential dread. As much as I love astronomy, I am certainly one of those people.
Hosted by the brilliant Dr Moiya McTier and Corinne Caputo, this podcast is everything I want an educational show to be. It's funny, approachable, and fascinating. While every episode sits roughly between 45 minutes and an hour, it doesn't feel like the episodes are actually that long. I get through a lot of chores with these two women.
Each episode has a setting that has to do with the topic of conversation. It effectively draws you into the mood with a quiet ambiance, giving the podcast an extra layer of cozy as you try to wrap your head around the universe. At times I have found the design slightly distracting, but it feels like it's getting better as the team moves forward. A part of Multitude Productions, the podcast is an independent project that blossomed into something great.
The fact that this is an astronomy podcast hosted by two women, and one woman of color, is an extra layer of awesome and excitement. We all know how women and people of color were written out of, and then back into all history, but especially in the history of the sciences. If you don't, well I'll have a podcast for you at the end of this review. The fact that these women, Dr. Moiya and Corrine, are taking astronomy out of the ivory towers built by white men and putting it into our hands gives me hope that we will continue to see the marginalized breaking into the sciences and making their marks.
I always said, if I was good at math, I would've been an astrophysicist. Sometimes I wonder if I wasn't good at math, or if I was reflecting something of society back at myself. This podcast is not explicit, and honestly would probably be good listening for middle grades and up. It's not designed for kids - but is approachable for a younger audience. I always suggest parents listen to podcasts themselves to determine that, though. I don't have kids, and every parent is different.
That is to say, not only should you listen to this podcast because it's fascinating and by two brilliant women, but this podcast serves as a great "media gift" for the space lover in your life. Who needs things when you can give people podcast recommendations? Suggest this podcast to a friend who loves space, who wants to know a little more, or for the little astronaut in your life who could use someone to see herself in.
If you like this podcast, I suggest listening to NASA's Curious Universe, which I reviewed Here. I also suggest Lost Women of Science, which I reviewed Here.
Podlink for Pale Blue Pod Here
Thanks for reading, and remember, be confident in your curiosity. Not just for yourself, but for a little one who may be watching.