The Monthly Magpie: November 2022

Oh wow, it's finally December. Which means it's time to wrap up November.
What a wild month. The demise of Twitter, Election Day, and just a moment after moment of "Woah". Hopefully, December eases us into 2023 and puts 2022 to rest.
Obviously, Twitter going Down the Drain is difficult for the outreach of Magpie. On a personal level, I think it's good. On a societal level, yeesh. Twitter is what you make it for the most part, and that still is holding true- but it just doesn't feel the same for a variety of reasons.
In light of this fate: I've stepped up as a moderator on Arielle Nissenblatt's Podcasting Community Discord (join here!). We recently reached 1,000 members so please, come on over. If you're a listener but not a podcaster, this includes you! You are a part of the podcasting community!
In the meantime: I'm trying to use Instagram more. I am working out how to have the appropriate visual window into my existence. I don't mind sharing my life with people, but the visual is hard for me as a person based in the written word rather than visuals.
What also will be a process is that I'd like to rebrand a tiny bit across December and into January. 2023, New Magpie looks for the Post Twitter age.
It's incredible where this has come in the past year, and I'd like to keep it going. I've been considering different options for monetization, and also how to be sustainable. So keep an eye out for little changes across the coming weeks. Including, perhaps, a series of Magpie Musings…details to come.
With that being said onto the November Reviews:
Unladlylike
Conger does a great job structuring episodes well, taking the interviews and splicing them into these easy-to-follow, almost "over coffee" conversations about just about anything a woman may have questions about.
Link to My Review Here
Podlink Here

Skyline Drive
It's personal, it's journalistic, and it sets us up for an interesting ride. Coming out of the credits, I took off my headphones and said out loud "oh I'm going to like this one".
Link to my review here
Podlink here

Podcasts I Listened To:
Get ready for this list friends.  I'm trying an image here, but honestly, I'm not sure. Let me know what you think!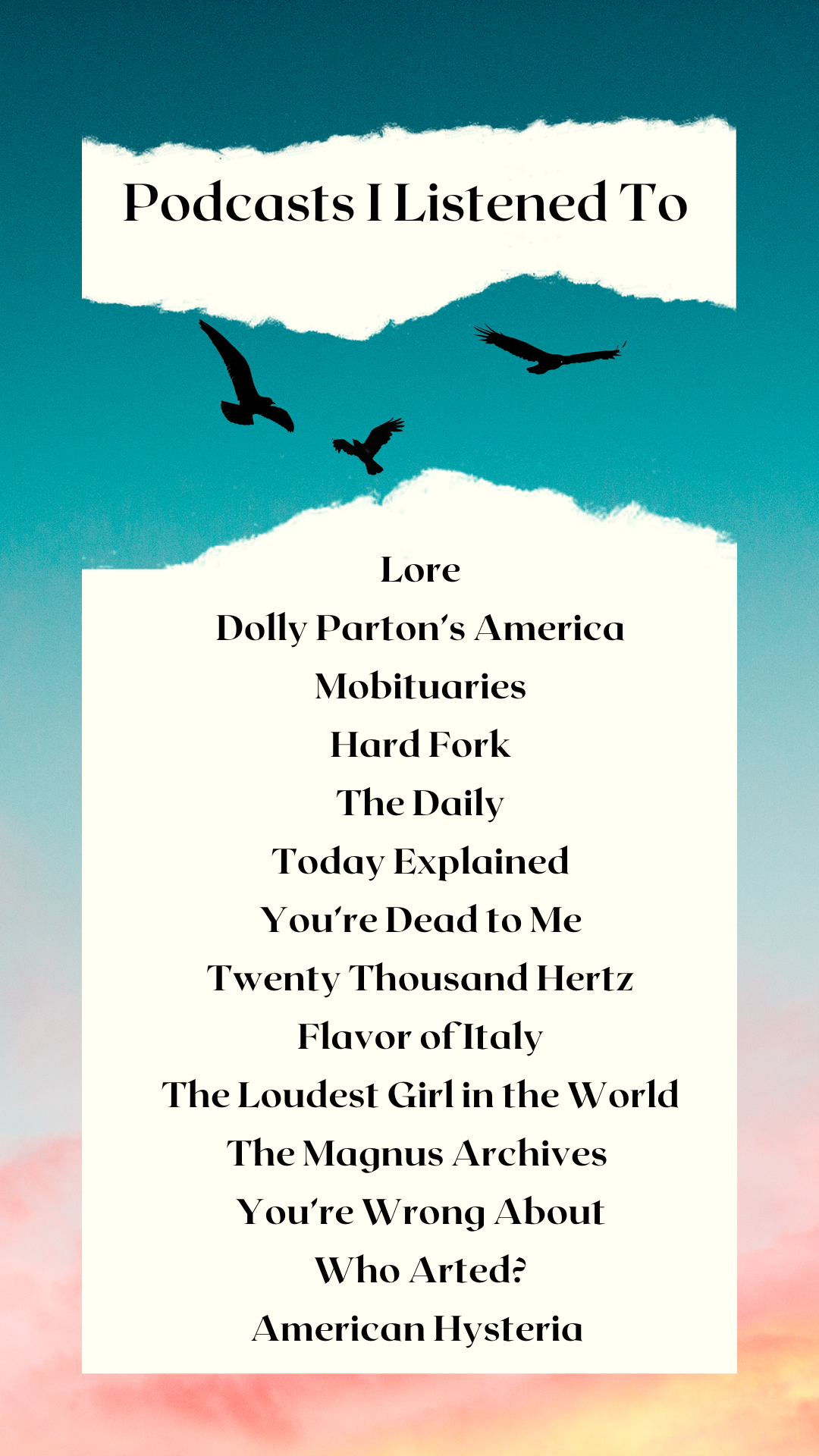 In the coming weeks, I am doing Reviews Revisited. The first one will be up soon and we'll get rolling, checking out some of the Release Day Reviews from the year and where the podcast has gone from its first episode or two.
There we have it. As this is going out on a day that The Buffalo Bills play: Go Bills.