Review: Twenty Thousand Hertz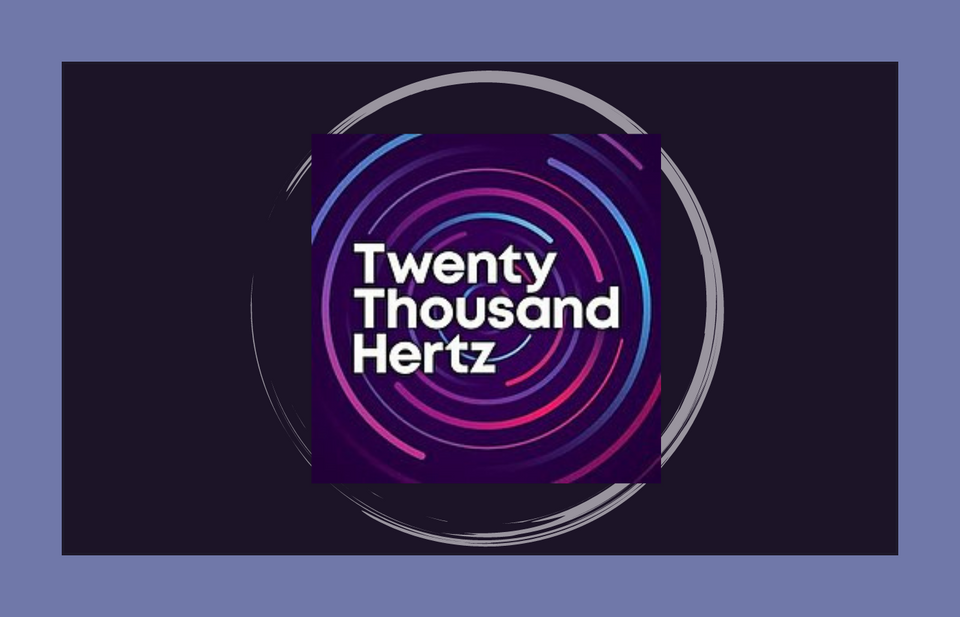 Here's a small confession: Writing about podcasts I love is actually very hard for me.
I prefer to talk about podcasts I like, rather than those I am downright giddy to listen to. I tend to keep these ultra-favorites on a shelf, tucked away under lock and key for my own enjoyment. I don't want to think about them too hard. We all deserve to have these "untouchables" in my opinion. I am trying to keep mine. Is this entirely healthy? Probably not.
Today I break that rule by writing about Twenty Thousand Hertz. I do this because GreatPods and I are taking to Twitter Spaces later today to chat with the creator about starting up and creating this podcast.

I came across this podcast by way of the Ambie Awards. While not a usual method of finding the podcasts I listen to, I was curious about what I would find.
This year Twenty Thousand Hertz took home the award for "Best Production and Sound Design"- I would like to nominate it for "Keelin's Heart" Award, which is all the more prestigious, right? This show sings to my soul, and I have been enjoying every moment of it. I'm taking it episode by episode, based on my mood. Like the bites of my favorite cheesecake: I do not want it to end.
I've always been interested in the stories behind things. I want to know the who, what, when, where, why, and how. I feel like we generally only ever hit a third of these answers- which is fine. We don't know answers to many things, but Twenty Thousand Hertz hits what question words it can answer with careful precision- and it's all about sounds.
A podcast about the stories behind the sounds we hear every day. Train station announcements, songs, mysterious hums from across the river, and even the sound of our own name. These are only a few topics that this podcast covers- not to mention actual episodes bringing the complexity of sound into an approachable space.
To say that this is a podcast about sound feels over simple. Explaining it further seems to need more words than I have available. It is about the relationships we have with what we hear, on almost every level.
Hosted by Dallas Taylor*, the Creative Director of Defacto Sound, this podcast tends to run 30-40 minutes, with some outliers on either side. The careful love brought to this production is evident, and its overall production quality is spot on and top line. Every moment of sound is carefully curated to match the energy of the episode, through its guests and the subject matter. Pirate Radio feels a little silly, Happy Little Episode feels calm, joyful, yet melancholic, The Windsor Hum has an air of mystery. Everything fits.

This sits in a different class of podcast than I normally write about- and that's because Dallas Taylor and his team balance every moment of these productions so well. It's not just the information we're being given, but the way it's being presented. It's put together beautifully and the information is not pretentious. It is accessible, with an honest host that obviously loves the conversations he has. This podcast is casual, gentle, and overall an excellent example of how a podcast can be simple and immensely enjoyable.
Not only that, but I also love how some episodes are from other podcasts. There is some careful stitching done by the Twenty Thousand Hertz team to tie ideas into their feed. Not only is it a great nod to these podcasts, but it also feels like the team knows when their voices may not be the best for a subject. Having others more directly involved in a circumstance introduce themes for a special series is something I have great respect for.

Overall this is one of those podcasts that to me is a "chef's kiss". It may not be your flavor, but it is definitely mine.

If you'd like to hear more, check out our Twitter space!
*I'm writing out his name because it's a good one.